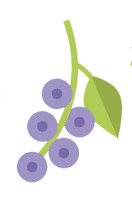 We are in full swing with cherries, apricots, peaches, nectarines, melons, watermelons and from W/23  ready to start with grapes from Sicily and first blueberries from Piemonte and Verona.
Check out some pictures of how the fruit looks like now.
Blueberries
Berry season has just begun with first Duke blueberries shipment towards Europe and overseas. Warm sunny weather allowed crops to grow at their best.
Grapes
First Victoria and Black Magic varieties already available from Sicily. High quality all grown under tunnel with min. 13% brix. First seedless varieties ready to be shipped from the mid of June.
Melons and watermelons
We are now shipping Cantaloupe variety melons from Northern Italy. Melons are sourced from top quality areas like Mantova (PGI) and Reggio Emilia. Continuity is guaranteed until September included. Mini seedless watermelons available soon.
Apricots
Wide choice of red blushed apricots now from the South & North of Italy. Red colouration over 50% of the skin with Pricia, Mogador and French varieties. Also standard Ninfa available.
Apricots
Cherries
Top quality cherries from Vignola now available, while Ferrovia from Bari is showing best quality and full availability. All hydro-cooled. Fancy mixed packagings with other stonefruits available too.
Nectarines and peaches
Peaches and nectarines from Emilia  Romagna are available now. Tasty Red variety coloured peaches packable in punnets and layers. All sizes available. Peaches and nectarines from Puglie keep on going with 80/90% colouration, mainly size A,B,C.
Thomas Drahorad · 1 giugno 2017